Door Tech Industries, Inc
Northwest Indiana's Trusted, Family Owned and Operated Garage Door Business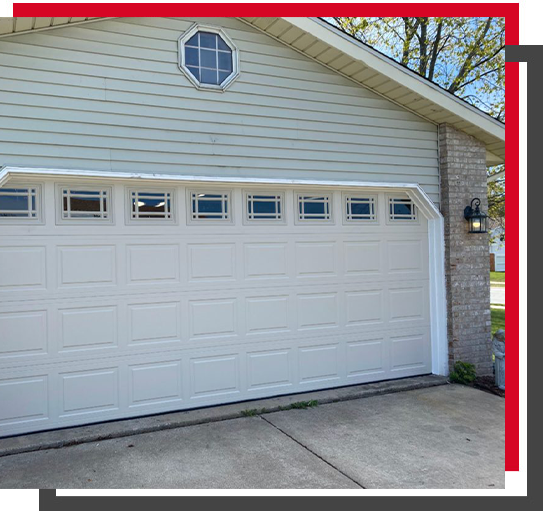 We are a family-owned and operated business. We sell, service, and install garage doors, garage door openers, and specialty doors as well. We work on the residential, commercial, and industrial sides of the business. We have been in business since 1978 and are licensed, bonded, and insured.
Our customer service is unparalleled to others, we offer nothing but the best in product and service to our customers. We offer a 24/7 emergency service call out.
We are a family-owned and operated business. We have the means and capability of handling any and all jobs. All of our employees are qualified and experienced to handle all jobs from being a small residential setting to a large commercial setting.
I highly recommend them for all your garage needs. We were in a real bind and our garage door opener was electrically fried. They came out on there own time to take care of us immediately. They were booked solid and make a special effort to help us. I will be forever grateful for their great service and compassion.

Barbara Lloyd


January 29, 2022

Brad and Jordan were absolutely wonderful to work with. I called for my mother late on a Friday and they squeezed us in the next day early the day.They were extremely honest and even remembered what was going on with my mom from the previous nights conversation and asked how things were going. We will definitely be using them again, and referring them to anyone who asks. Their pricing is grwat and they do quality work.

Amanda Reeves


August 21, 2021

Our garage door was damaged beyond repair. It wasn't able to shut and we were very concerned that we would have to leave it opened over night. I made a call to Door Tech and Brad came over within 2 hours of my phone call to fix it so it would at least shut all the way. The greatest thing about this is it happened on a Tuesday and Brad and Jordan came by 3 days later to replace our damaged door with a new one. Door Tech saved the day!!! I would highly recommend them. Brad and Jordan are very courteous and responsive men.

Ellen owen


December 4, 2021

We ordered our doors from them for our new home. Couldn't be happier with the quality & customer service. I would refer them to anyone looking. Appreciate Door Tech 100%.

Betty Zuccarelli


January 6, 2022

Brad and Jordan are two amazing brothers who installed our brand new garage door and garage door opener with excellent efficiency and thoroughness! They were extremely friendly and a pleasure to do business with! They are willing to beat competitors prices and installed a beautiful quality door! We couldn't say enough nice things about these two hard working young men! Thank you DOOR TECH INDUSTRIES we highly recommend you!!!! ????????????

joni scherer


June 21, 2021

Just want to send a shout out to this company for being so great! We had a major issue with our garage door that another company installed and needless to say we did not want that original company laying hands on it again. We called Door Tech to come help us out and they had a tech on-site for us the same day to get us up and running again. They cleaned up the other company's mess and did so quickly and efficiently. We will continue to use Door Tech Industries for all of our future needs!

Starr Geldmyer


April 4, 2022

Fantastic installation and customer service! I had them install my garage door on my new build. They did a great job in a timely matter and were very knowledgeable and nice! 10/5 would recommend

Zach Polich


December 5, 2022

I just got off the phone with Mike one of the employees who talked me through how to fix my garage door problem. He said this was a common problem of all the calls they receive. He was wonderful and stayed on the phone while we tried different options. I would highly recommend this company and thanks to Mike For all his patience and time. Highly recommend this company.

carolyn burns


May 3, 2022

Jordan and Co. were very quick and attentive to our needs. Provided many options and great customer service on the phone and during installation. Professional service, work and pricing all around. I would recommend them anytime. Thank You!

Michael Chapman


September 17, 2021

This family owned business is great. Mike, the father, gave us an estimate beating local competition. His sons, Brad and Jordan, did the very challenging install in about two hour.

Dn Bedeker


July 15, 2022

I called Door Tech late on a Saturday afternoon and they squeezed me in for a Monday morning repair of my broken garage door springs. Brad & Jordan showed up and had the door repaired with new springs in less than an hour. They did excellent work, and I would not hesitate to call them in the future for any garage door needs that arise.

Michael Wuchenich


January 11, 2022

Was referred to this company by my father. Like always, his recommendation was spot on. Brad and Jordan are tremendous workers and I was incredibly happy with the job they did. Price was more than fair and the work was done quickly and perfectly. Highly recommend making Door Tech your first and only call if you need garage door work done!

Michael Nickolaou


September 4, 2021

I accidently damaged friend's garage door. Called Door Tech in the afternoon, they came out next morning, gave me different options. We decided to replace the door. They got it done properly and in a timely manner. Could not be more satisfied. I would highly recommend them. Dave Duncan

Peggy D


June 7, 2022

The repair of my spring was quick! Jordan was very responsive and professional. Extremely happy with the service and price. I highly recommend them! Thank you!

Jenn Lacer


March 7, 2022

I highly recommend the guys at Doortech! They provided a time and date of when they could come to replace my garage door opener and showed up when they said they would. They phoned me ahead of time to let me know when to expect them. They were polite, friendly and most of all helpful to make sure everything was setup correctly. I will definitely use Doortech again!

Brian Tawlks


September 6, 2022

Brad and Jordan were absolutely wonderful!! Very nice, very friendly and very honest!! My garage door totally broke and we couldn't even get it open. This is the main way we enter and exit our house so it was a big inconvenience for sure! The guys came out the very next day and we very helpful and informative. They had my new door ordered and installed it in less than a week! Couldn't have asked for better service. Great guys! Great company!! Highly recommend!!????????????

Erika Gonzales


July 28, 2021

Brad came over to diagnose our malfunctioning garage door and clearly explained why it was a disaster waiting to happen. We were able to arrange and have installed a beautiful new door in a short space of time given the material shortage in the industry at the moment. Extremely happy with the end result - a very good looking (and quiet!) door. Professional, helpful, polite and good as their word. Happy to recommend Brad & Door Tech

Mark Gilbert


December 15, 2021

Fast response times! We have used this company frequently over the last 6 years. Every time we call we are greeted with friendly service and a timely appointment! Would recommend company to friends and family!

darian george


December 5, 2022

Highly recommend Door Tech! When my garage door spring broke, Door Tech fixed it in no time! Jordan was super professional and personable. He made sure everything was working perfectly before he left!

Andrea Schmidt


September 22, 2022

I haven't had any door services yet but from an over the phone customer service standpoint, this company beats any that I've talked to over the past couple days. I've call six companies and no one has been as personal, pleasant, up front and honest, and simply just nice. I've only received one actual estimate so far but Door Tech is already leading based on one phone call. Other companies could learn a thing or two. I guess I wrong about all garage guys being grumpy. It's only 99% lol

Melissa 99


March 8, 2022
We handle all jobs with a personal family touch
We want all of our valued customers to know they are in the most capable hands.